Click the link bellow to download the Proceedings of the 11th International Conference of Students of Systematic Musicology (doi:10.5281/zenodo.1345176).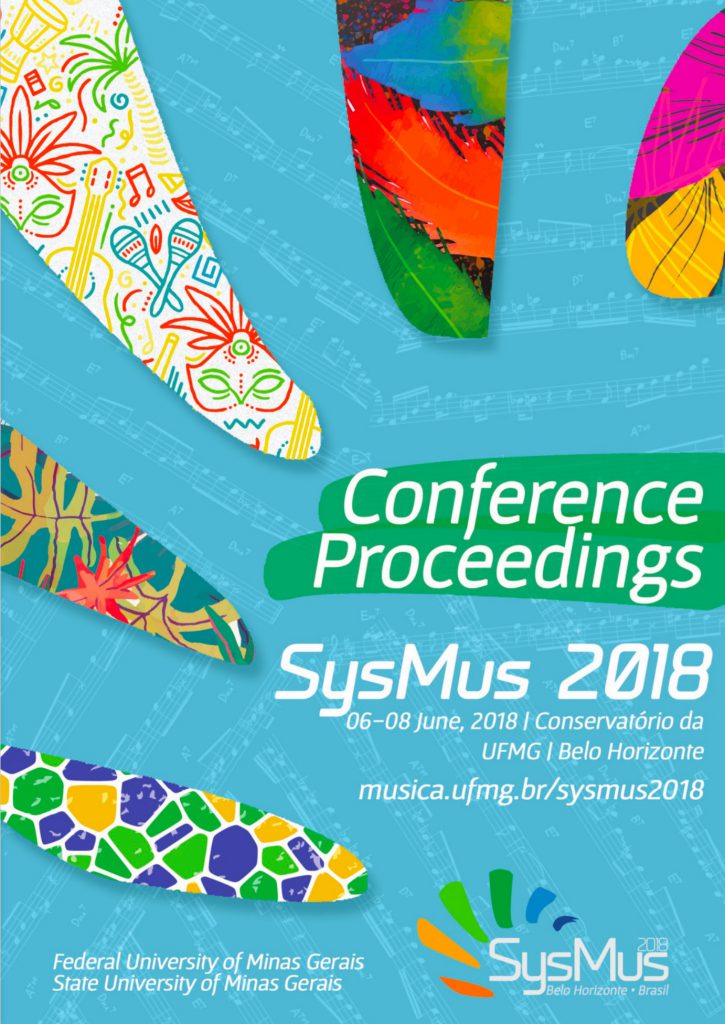 If you want to download the full papers individually, you will find them in the list bellow.
A Musical Analysis of Mutantes' Balada Do Louco
A Sonification Approach to Music Visualization
Analysis of the Sonority: an Approach Based upon the Performance
Apropriation and Inappropriate Tradition in the Practices of Sampling at Rap Music in the City of Belo Horizonte
Assessing the Sound of a Woodwind Instrument That Cannot Be Played
Audio-to-MIDI Similarity for Music Retrieval
Augmented Charango: an Instrument for Enriching the Andean Music Social Role
Awê and Spetacularization: the Differential Line
Between Sound and Movement in Embodied Tango Performance. Implications for the Study of the Perfomative Style in Tango.
Brazilian Musicologies- Resources, Approaches and Designations
Choro Maranhense. A Biographical and Ethnographical Study of an Identity in Maranhão
Combining Automatic Segmentation and Symbolic Analysis based on Timbre Features – A Case Study from Ligeti's Atmospheeres
Comparative Analysis as a Tool to Identify Aspects of Electroacoustic Music Composers Language
Dmitri Shostackovich and György Ligeti Strings Music Textural Similarities
Effects of Altered Auditory Feedback on the Temporal Control of Discrete and Continuous Movements
Effort in Gestural Interactions with Imaginary Objects in the Context of Dhrupad Vocal Improvisation
Evaluating Melodic Encodings for Use in Cover Song Identification
Evaluation of Music Cognition in Children and Adolescents with Attention-deficit: Hyperactivity Disorder
Evolution of Timbre Diversity in a Dataset of Brazilian Popular Music: 1950-2000
Interdisciplinary Perspectives on Playing an Instrument: Does the Shape of a Recorder Mouthpiece Influence the Timbre?
It's not just the music: Impact of the environment and individual differences on music medicine in pain settings
Listening to Interactions: the Relationship Between Streams in Mixed Electroacoustic Music
Looking:Sounding Androgynous: An Analysis of Tomboy Body:Voice Aesthetics in East-Asia Taking Denise Ho as Example
Masculinity, Paganini, and the Viola: Towards a Queer Viola Performance of Paganini's 24th Caprice
Moving Towards Synthesis: the Incorporation of Technology in Music Through a Case Study of the Flute
Musical App in Hypersensitivity to Sounds and Neurodevelopmental Disorders: Applicable Strategies
Mutationen III from Claudio Santoro: a Case Study of Analysis and Reinterpretation of a Mixed Piece
On Trevor Wishart's Musical Trade-offs: Compositional Goals, Material's Selection and Suitable Sound Processes Supporting the Listener Perception
Reliability Inter-examiners of the Nordoff Robbins Musical Communicativeness Scale Brazilian Version
Stockhausen's Struktur Und Erlebniszeit: Conceptual Implications in Contemporary Music Analysis
Textural Layers and Polyphonic Timbre Links in Electronic Dance Music